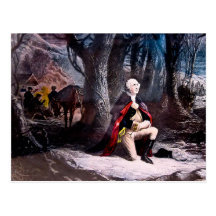 We are in Valley Forge, Pa for about 5 months. We arrived last night as Jeff had to start the job today.
I've known we would be headed here since February, and my life has been so busy since I found out. Trying to do things for my family and friends at home, and spending as much time as I could with Thomas.
I didn't have much time for making cards, but here is one I made that I really like:
I guess the lighting wasn't that great when I took this picture, but it is a cream colored card and I used the same cream colored cardstock for the sentiment. I gave this to my mom with about 17 other cards just before I left. She uses them to send from our church. I'm glad I can help a little with that.
I love spending time with my daughter Cheyenne, my daughter in law, Sarah, my best friend Grace, and Thomas. We did a lot of walking together this Spring, and what a blessing it was to me to share this time with them, and watch them bond with each other!
The Wednesday before I left they surprised me with a proper English Tea! It was so perfect! I was just giddy! They dressed up, even Thomas, and made me keep my eyes closed for miles while Cheyenne drove around in circles until we got to the cute little tea shop. The proprietors served us high tea, and oh, it was so yummy! Here is a picture of us all after tea:
I am so blessed by God with a wonderful family and friends! We had one more walk and night of fun on Friday before we left, and then a good cry on Saturday knowing we'd be apart for awhile.
As soon as we find an apartment and get settled I'll be making cards again. I also plan on doing more sewing this summer. That is the plan....we'll see!
Hoping to have pictures of my adventures here in Eastern Pennsylvania soon.